Categories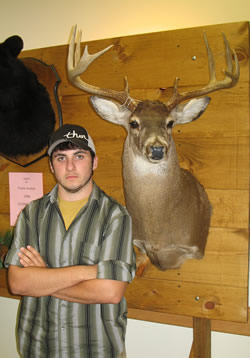 Roy Killian Jr.
Youth Typical Deer Category
Taken in 2004
Score: 135-4
Youth (Jr. License Holder or Mentored Youth) Typical or Non-typical Deer (120-0)

Typical Deer Gun (140-0)

Non-typical Deer Gun (160-0)

Typical Deer Archery (115-0)

Non-typical Deer Archery (135-0)

Shed Antler Single Beam (50-0 Gross)
Shed Antlers Matching (100-0 Net)
Typical Antlers on Deer Found Dead (140-0)
Non-typical Antlers on Deer Found Dead (160-0)
Black Bear Gun (19-0)
Black Bear Archery (17-0)
Male Black Bear (350 lbs.)
Female Black Bear (250 lbs.)
Black Bear Found Dead (19-0)
Typical or Non-Typical Deer Muzzleloader (130-0)
Black Bear Muzzleloader (18-0)
Any properly licensed hunter regardless of residency, is eligible to enter the Club under the rules of Fair Chase*. Only animals taken in Bradford County will be accepted, and may be entered regardless of the year taken. All antlers and skulls will be measured in accordance with the Boone & Crockett scoring system.
---
If you or someone you know has killed a deer or bear or found antlers in Bradford County that meets these minimum requirements, contact the Club at 570-297-2489 or e-mail
---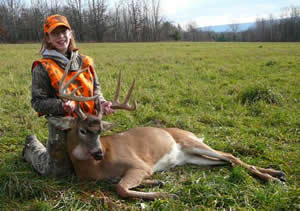 Taylor Kirkendall (11 yrs. old)
5th Largest Youth Category Entry
Taken in 2009, Franklin Twp.
Score: 141-1
Male and female black bear weights can be estimated live weights or actual live weights. To enter these categories, forward us a copy of the harvest certificate that you received from the bear check station. Please include the name of the township your bear was taken in. If you do not have a harvest certificate, send us a statement that you have taken a bear in Bradford County, the year taken, township
taken in, male or female, and weight.
Shed antlers and antlers from deer found dead will be measured by the Club. Call to set up an appointment.
If your animal has been officially scored, but not entered in any record book, send us a copy of the score sheet and we will enter your trophy in the proper category. Also, please send us a photo of you with your deer or bear (including details) for our website photo gallery and record book.
At your request, we will also forward a copy to the PA Game Commission for their big game records list.
If your animal has not been scored, and you think it may meet the minimum requirement for one of the categories, go to the CERTIFIED MEASURER page and make an appointment with one of them. Once you have an official score, contact the Club or send us a copy of the score sheet.
Send all entry information to: BC Trophy Deer & Bear Club,
1107 Kingsley Road, Columbia Cross Roads, PA 16914
A certificate of award will be presented to each hunter at the annual banquet.
July 1st is the deadline to enter any of the Club's categories.
* FAIR CHASE, as defined by the Boone & Crockett Club, is the ethical, sportsmanlike and lawful pursuit and taking of any free-ranging wild, North American big game animal in a manner that does not give the hunter an improper advantage over such game animals.