2012 Awards
Our 2012 Big Game Awards Banquet took place on September 22nd at Alparon Park in Troy.
Bradford County's biggest and most recently harvested whitetail deer and black bears, plus shed antlers were accepted into our Big Game Records.
Hunters entered specimens from 19 of Bradford County's 37 townships.
Big Game Awards were presented to 35 individuals in 9 categories with bowhunters entering the most trophies.
The top awards went to Roger Sharts of Sugar Run for Youth Typical W/Gun at 138-0; Gary O'Conner of Monroeton for Typical W/Gun at 154-0; Dustin Vandyke of Gillett for Typical W/Bow at 136-7; Jeff Fassett of Ulster for Black Bear W/Gun and Male Black Bear at 21-11 and 638 lbs; Carl Benscoter of Laceyville for Female Black Bear at 401 lbs; Rob Storch of Leroy for Black Bear W/Bow at 19-13; Kiah Johnson of Sugar Run for Shed Antler Single Beam at 56-7; and Steve Sharer for Matching Shed Antlers at 132-0.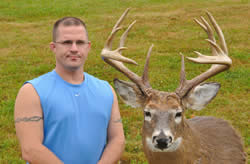 Lenny Reed killed this buck
with a crossbow on October 30, 2010
in Columbia Twp. The antlers gross 170-4
and net 158-1. It's now Bradford County's
largest deer in the Typical W/Bow category.