2018 Awards Banquet
Our 12th Annual Big Game Awards Banquet took place on September 22, 2018 at Alparon Park/Troy Fairgrounds in Troy, PA. Bradford County's biggest and most recently harvested whitetail deer and black bears, plus shed antlers were accepted into our Big Game Records.
Big Game Awards were presented to 51 individuals in 7 categories with archery hunters entering 38 of those trophy class animals.
The top whitetail awards were presented to Evan Landis of Troy for Youth Typical at 137-0 taken in Canton Township; David Miller of LeRaysville for Typical Deer Gun at 154-5 taken in Orwell Township; Jeff Wiseman of Athens for Non-Typical Deer Gun at 164-2 taken in Windham Township; and Jody Schaaf of Gillett for Typical Deer Archery at 151-5 taken in South Creek Township.
One of the most talked about whitetails in the 2018 awards lineup was a Franklin Township buck taken with a crossbow by Chris Radney of Canton. The 18 point rack grossed 195-7 with a 180-3 Non-Typical net which surpasses the previous record held by Kyle Jackson of Columbia Cross Roads by 7-3/8 inches to become the new No. 1 for the Non-Typical Archery category. With over 17 inches of abnormal points, the Radney buck now ranks No. 26 in the PA State Record Book for that category. NOTE: Forensic aging confirmed that the Radney buck was 6-1/2 yrs. old.
The top black bear awards were presented to Derek Beach of Granville Summit for a Granville Township black bear at 19-2 for Black Bear Archery; and Craig Vukov of Cedarhurst, NY for a Rome Township female black bear weighing 267 lbs.
Also, the top entries in the shed antler categories added to our records were a matching set found by Gaige Williams of Granville Summit at 156-4 NT, and a massive single beam found by Doug Lantz of Monroeton at 83-2 which takes over as the new No. 1 for that category.
Congratulations to all those hunters who were part of our 2018 Big Game Awards Program, and a big thank you to our Sponsors and all those who attended this celebration of Bradford County's big game hunting heritage.
---
* A special thank you to Laurel Hill Forestry for donating the
Henry 22 Rifle to our 2018 Youth drawing.
---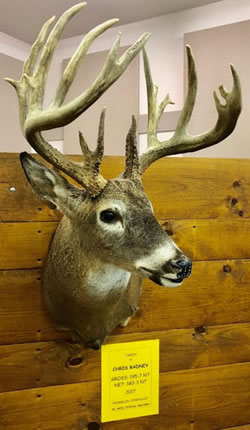 The Chris Radney, Franklin Township
buck taken in 2017, is the largest
archery non-typical in the county.
At 180-3, it ranks No. 26 in the
PA State Record Book
for that category.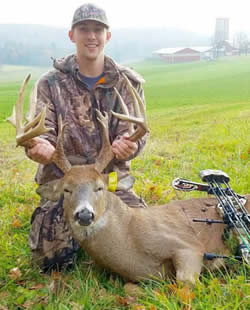 Kyle Jackson's Springfield Twp.
buck scoring 173-0 is a new No. 2
for the Non-Typical Archery category.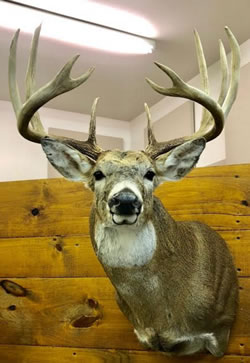 This impressive Windham Township buck
was taken by Jeff Wiseman in 2017.
It scores 164-2 and ranks No. 7 in the
Non-Typical Deer Gun category.