2014 BIG GAME AWARDS BANQUET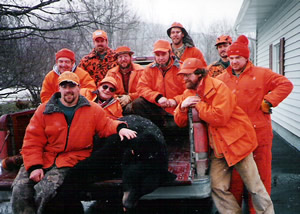 Good Times! Great Memories!
Patrick (P J) Kennedy is pictured here
surrounded by his hunting party.
P J killed this 402 lb.bear in
Ridgebury Twp. in 1997.
The skull measured 20-6/16.
Banquet will be held September 27, 2014 at Alparon Park/Troy Fairgrounds, Troy, PA

DETAILS FORTHCOMING


Tickets are -ADVANCE SALE ONLY- none sold at the door!

Seating is limited so make reservations early.

To make reservations, contact one of the charter members, or send a check made payable to:

BC Trophy Deer & Bear Club
1107 Kingsley Rd.
Columbia Cross Roads, PA 16914

Indicate how many people will attend, and we will have your tickets waiting for you at the door.
Don't miss one of the largest big game displays ever assembled.
COME CELEBRATE BRADFORD COUNTY'S BIG GAME HUNTING TRADITIONS