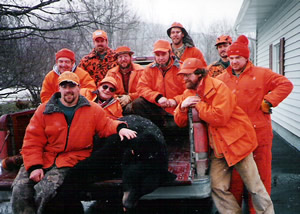 Good Times! Great Memories!
Patrick (P J) Kennedy is pictured here
surrounded by his hunting party.
P J killed this 402 lb.bear in
Ridgebury Twp. in 1997.
The skull measured 20-6/16.
Our next Big Game Awards Banquet date to be determined
Tickets available starting July 1st. Reservations must be made!

Ticket prices are:
Adults $25
12 years and under $10



Tickets will not be available at the door.
Seating is limited so make reservations early.
Reservations can be made by calling or mailing in a request to our address listed below, or by e-mail at kingsley@epix.net.
Indicate how many people in your party and we will mail the tickets to you.
The highlight of the evening will be the presentation of the 2021 Big Game Awards.
* Awards will be presented to hunters who harvested trophy-class animals exceeding the Record Book minimums.
Other activities throughout the evening will be the drawings for our popular
LUCKY 7 RAFFLE; antler scoring contest; youth, women, and sponsor prizes awarded;
silent auction; sponsor exhibits and more.
BC Trophy Deer & Bear Club
1107 Kingsley Rd.
Columbia Cross Roads, PA 16914
570-297-2489


Don't miss one of the largest big game displays ever assembled.
COME CELEBRATE BRADFORD COUNTY'S BIG GAME HUNTING TRADITIONS