Trophy Quest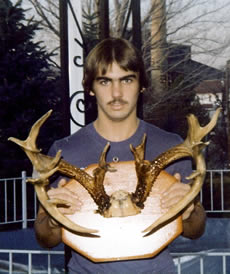 James Cusick's son display's
the antlers of the Milton Dodge
buck taken in 1930 in
North Towanda Township.
SCORE: 180-7 NT


CAN YOU HELP US?
We're trying to track down some whitetails that were killed in Bradford County years ago and listed in the Pennsylvania Record Book. Very few people have seen these trophies and we'd like to put them in the spotlight at our annual Club Banquet. If you have any information about these individuals and their trophies, please contact us.
NAME & ADDRESS, YEAR OF KILL, SCORE
Clyde H. Rinehuls 1944 176-0
105 East St., Sayre, PA
Ezra Schultz 1927 169-0
Box 5, New Albany, PA
Vernon Luckey 1951 160-2
Box 36, Sylvania, PA
Earl Lee 1952 157-2
Pine City, NY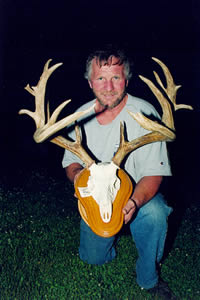 Found dead in Rome Township by Dewey Russell on Nov. 25, 2002
Non-typical score: 175-6


Robert Moore 1955 150-5
RR4, Dallas, PA
Archie Noss 1947 145-6
RR2, Mechanicsburg, PA
FOUND!
Frank Stroud 1939 145-1
Athens, PA
Robert B. Lewis 1944 141-4
RR1, Linglestown, PA
Leroy Plouse 1937 140-0
RR2, Sayre, PA
Milton Dodge 1930 180-7 NT
Owner--James Cusick
Ashley, PA
FOUND!
Laverne R. Park 1936 165-6 NT
Middletown, PA
FOUND!
"It's nice to know that when you help someone up a hill, you're a little nearer the top yourself."
--Unknown